It's time to kick off Day 17 of the "Make it for Me" projects!  You've survived the holidays and now It's Time for You!  For the entire month of January, I will bring you FREE patterns from amazing designers in the crochet industry.  One of the great parts of "Make it for Me" is the designer will tell you exactly what that project means to him/her and why it is considered perfect for you too! Take a few minutes to check it out and decide if this crochet pattern is the one that you'll dedicate to make for yourself.  If this is your first time here, you can find out the details about how "Make it for Me" works HERE.  Be sure to scroll all the way down because I have an announcement of a local "Make it for Me" event in my home town!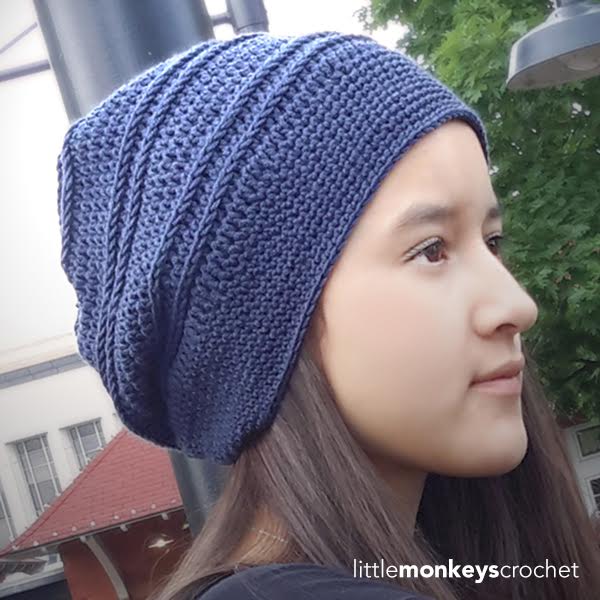 Rebecca from The Little Monkeys Crochet is incredibly talented.  It's always exciting to see such beauty!  Rebecca thought her South Haven Slouch was the perfect "Make it for Me" project.  She said, " The South Haven Slouch is one of my personal favorite designs from this season. It was one of my first experiences with #3 yarn, and I'm in love with the lightness of the finished product. The original hat was given as a gift, but I always had it in the back of my head that I would make one for myself. I'm thinking a nice medium gray this time around!
I'm not fortunate enough to have an LYS nearby, so I was excited to come across a cute little yarn shop on our recent vacation to South Haven, Michigan. In fact, that's where I purchased the Cascade yarn for this pattern, and the sample hat was created down at the beach during our stay. I loved my visit to Needle In A Haystack, and since my family plans on returning to South Haven every summer, I'm just going to start calling it my VYS (Vacation Yarn Store)."
Click HERE for the Pattern!
Stay in the know!  Hear about my latest pattern releases both FREE and PAID when you sign up for my newsletter!
 Don't forget if you love to chat about crochet, show off your projects, or have a crochet question, join the ELK Studio Crocheters Facebook group!  We have a great time!
You can follow the link below to see all the projects as the posts go live each day.  You don't want to miss a thing because some days will also include some fabulous giveaways!
Have you registered for the Craftsy Crochet Kit Giveaway Yet? Click HERE!
Local "Make it for Me" Event
Also, I want to announce that I will be having a local "Make it for Me" Crochet Day hosted by Yarnhouse Studio!  If you leave near or around Opelika, Alabama, I would love for you to join us on January 23, 2015!  I'll be there at 10 am!  Is there an end time?  Well I just don't know yet….We may close the place down if we are having so much fun!  If you are interested in coming, please let me know.  I would love a "head count".  You can find the address and other information on the Yarnhouse Studio website! Click HERE to join the official invite! I would encourage all of you to form your own "Make it for Me" event at your local yarn store, coffee shop, etc.  Let's just take at least one day out of the month to celebrate US!
Have a great day!
~Kathy